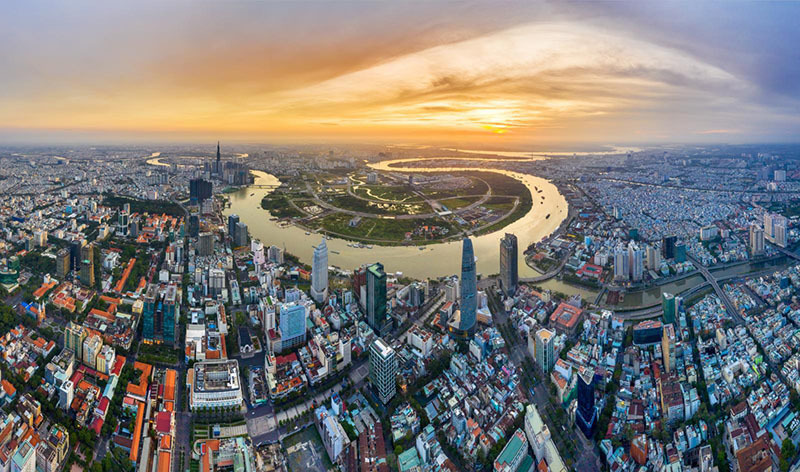 is the land in Vietnam the most expensive in the world?
One of the companies participating in a tender session on December 10, 2021 had to pay 2.4 billion VND per square meter to obtain land in the new urban area of ​​Thu Thiem. The exorbitant price caused concern rather than joy.
Land prices too high
During a tender session for four plots in the central area of ​​the new urban area of ​​Thu Thiem on December 10, the land fell into the hands of Ngoi Sao Viet Real Estate, who paid 24.5 trillion. of VND, which is 8.3 times higher than the initial price. . This means that one square meter of land there is valued at 2.4 billion VND.
The land was sold to Dream Public who paid 3.8 trillion VND, or 6.6 times the starting price, while Binh Minh Trading obtained the land for 5.026 billion VND, or seven times more. .
A real estate expert warned that with such land prices, the price of apartments would be very high. The 6,446 square meter land sold to Dream Public, for example, has a land cost of VND 457 million per square meter for each apartment.
The land, covering an area of ​​10,059.7 square meters, obtained by a subsidiary of the Tan Hoang Minh group, was purchased at VND 24.5 trillion, which means that the cost of the land for each apartment is 42.9 billion VND, or 363 million VND per square meter.
As for the 5,000 square meter land that Binh Minh Trading won at a cost of VND 5.026 trillion, 7 times more than the starting price, the company had to pay VND 1 billion for each square meter of land.
The four plots are located in Functional Zone No.3 of Thu Thiem New Urban Area, next to Vong Cung Boulevard, in Thu Duc town in HCM.
Along with the price points, land prices in the central area of ​​HCM City are almost the same as those in Tokyo and Hong Kong, Asian financial and commercial centers, considered to be the most expensive areas in the world.
Investigation found that with $ 1 million, you can buy 16 square meters in Monaco, 22 square meters in Hong Kong, 54 square meters in Shanghai, 58 square meters in Los Angeles and 66 square meters in Beijing, and only 10 square meters in Vietnam. .
Meanwhile, there is a big difference in income from real estate operation and finance – business in HCM City.
And after?
The good news is that the high price points have brought a lot of income to the city's budget. However, experts point out that this is more worrying than positive, as land prices are too high, which will push up the prices of apartments and finished goods.
The good news is that the high price points have brought a lot of income to the city's budget. However, experts point out that this is more worrying than positive, as land prices are too high, which will push up the prices of apartments and finished goods.
Dang Hung Vo, a real estate expert, said that in HCM City, only land in the central area of ​​District 1 is valued at over VND 1 billion per square meter. Meanwhile, Thu Thiem is seen as an area with potential for development in the future. Therefore, it is unreasonable that land prices are even twice as expensive there as in the most expensive part of the city.
Vo pointed out that Nguyen Hue, Le Loi and Dong Khoi streets are considered the "commercial center" of HCM city, so land prices are the highest there. If Thu Thiem is even more expensive, it is abnormal.
Vo assumes the price increase is artificial, but he said the final conclusion will be made when the companies winning the deals pay enough money as promised.
Tran Khanh Quang, an expert in this field, commented that with the tender prices of the four lots, a new price has been set and the risk of a new land fever is visible.
According to Quang, increases in house prices previously only occurred in certain areas and projects. However, as the land in Thu Thiem has been put up for public auction, this means the announcement of the establishment of a new price structure. He warned of a new price fever in the town of Thu Duc in particular and the southern market in general.
Nguyen Tri Hieu, an economist, said that the price of real estate will not increase indefinitely and the escalation will stop when the price reaches a certain level. If the developments of the pandemic are complicated and the economy falls into difficulty, prices can drop significantly. If so, it can lead to a market collapse.
Some analysts have warned of a real estate bubble. They said the bubble does not exist now when demand is high and the number of buyers is high. However, the phenomenon could occur in the future when the demand decreases due to the economic difficulties.
Asked about the real estate bubble, Hieu said it happens when real estate prices rise too quickly in a year. A 10% price increase is normal, but a 20-30% increase within 12 months could be a sign of a bubble.
"If prices rise too sharply, it will exceed the financial capacity of buyers. If so, demand will decrease and the bubble will burst, "he said.
Nghia noted that the current shortage of supply, which is attributed to legal issues and overlapping regulations. However, he believes this is also happening because companies are collecting land for speculation.
In 2015, Tan Hoang Minh won an offer to buy land at No 23 Le Duan in District 1, HCM City at VND1.43 billion, but later he did not pay any money to get the land.
Duy Anh
HCMC to auction four lots in Thu Thiem early next month
Four lots with a total area of ​​over 30,000 square meters in Thu Thiem New Urban Area in Thu Duc City in HCMC will be auctioned on December 3 with a starting price of VND 5.3 trillion.
When officials join "predatory stalkers" in land deals
Recently, many wrongdoings related to auctions and land offers have come to light. Most of the defendants in the land irregularities cases are senior officials of agencies and institutions.