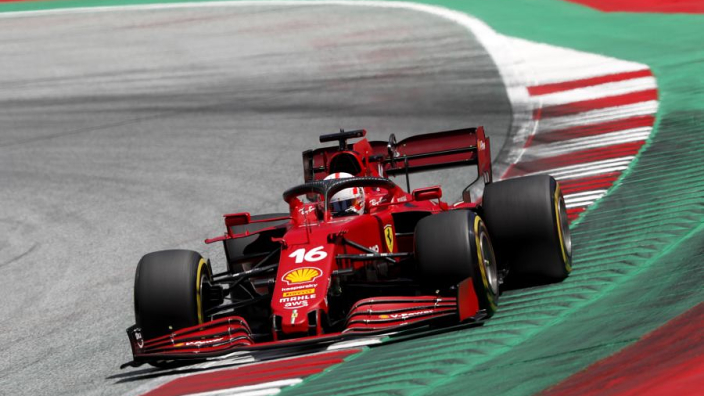 Leclerc hopes race pace can pull Ferrari out of qualifying hole
Charles Leclerc hopes Ferrari's racing pace will correct its poor qualifying performance ahead of the Styrian Grand Prix.
Leclerc will start from seventh place on the Red Bull Ring grid while teammate Carlos Sainz will field the worst 12th of the season as Ferrari have failed to match their recent impressive performances in qualifying.
In Monaco and Baku, Leclerc took pole position, and while in France last weekend he was again seventh, Sainz was fifth.
Around the Austrian short circuit, Leclerc rode more than half a second slower than poleman Max Verstappen in his Red Bull
"I obviously expected more than a P7," said Leclerc. "But on the other hand, the race pace was very good yesterday [in practice] So we didn't want to sacrifice the pace of the race to be better in qualifying today.
"P7 was, I think, the best result we could do today and we'll go from there tomorrow."
Although Ferrari has already performed well on Saturday, the team struggled to be so competitive over a race distance, a fact they hope to resolve on Sunday.
"I think the answers we are all looking for is the race pace of tomorrow," added Leclerc. "Yesterday was very strong but let's wait and see tomorrow.
"If we have a good race pace I think it can be a solid race for us and a good opportunity to score some good points. A good start and I hope the pace to stay where we are."
The Red Bull Ring "does not suit" Ferrari
The Styrian Grand Prix marks only the second time Sainz has failed to qualify for the top 10 shots on goal this year.
On this occasion, Sainz conceded having trouble with the SF21 around a circuit which, according to him, "just does not suit us very well".
"We are fighting to pass [to] Q3 and fight to be in the top 10 in every practice session, "added the Spanish driver.
"So you can see that the weather doesn't come as easily as it did at Paul Ricard. The feel in the car is not as good as it was there.
"On one lap we are having a bit of a hard time unlocking the pace of a lap, but hopefully we can reverse that trend and be faster in the race tomorrow."