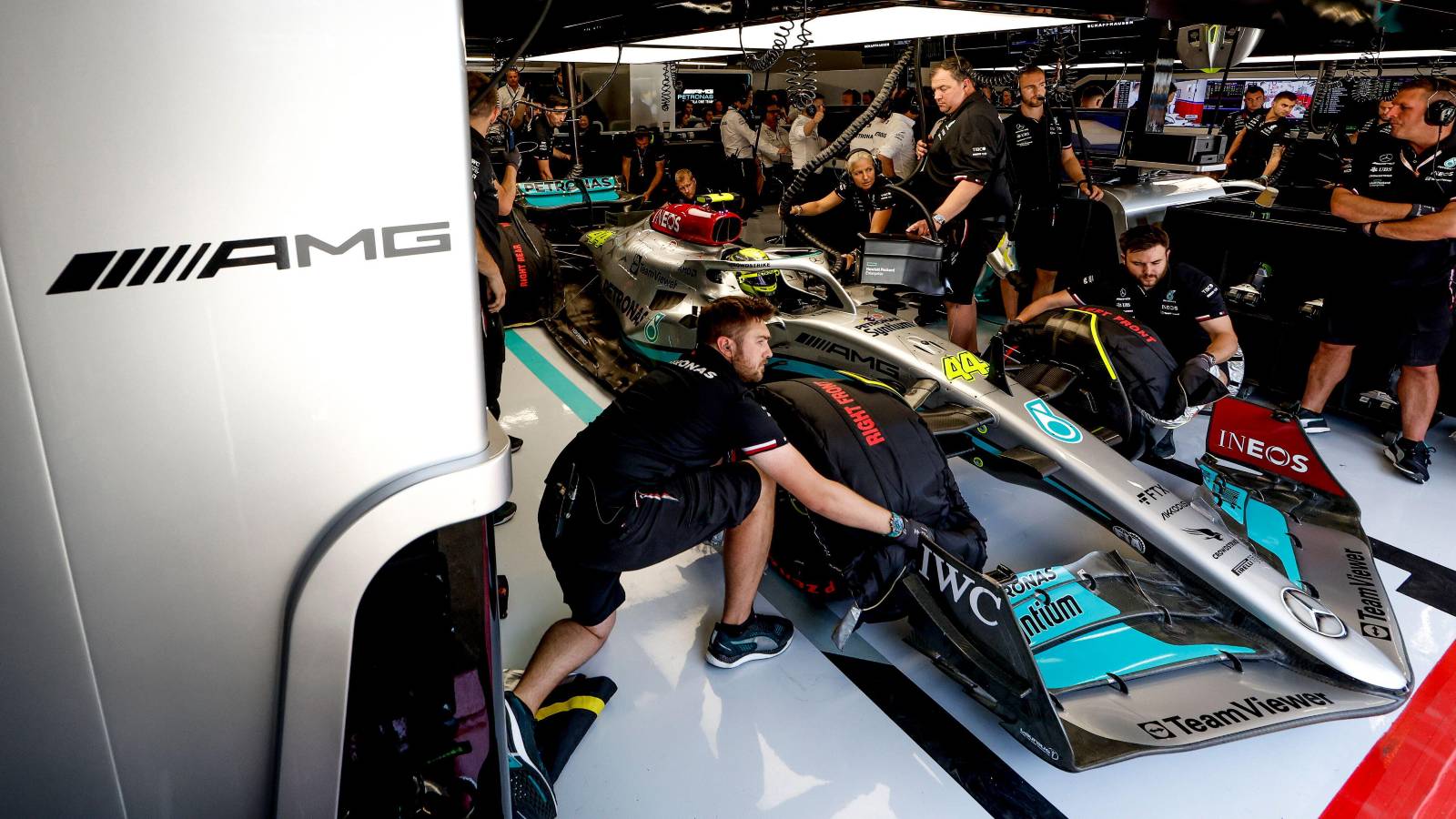 Mercedes W13 will wear Pride Star for the next three rounds of the Formula 1 season
Departing from Baku, a rainbow star will take place on the Mercedes W13 challengers to celebrate Pride Month.
June marks Pride Month, an initiative designed to show support for the LGBTQ+ community.
And the Mercedes Formula 1 team will get involved by running the "Mercedes-Benz Pride Star" on the nose of W13s driven by Lewis Hamilton and George Russell.
This will start at the next Azerbaijan Grand Prix, and continue for the Canadian and British Grands Prix.
Additionally, Hamilton and Russell will also wear the Pride Star on their helmets at all three races.
"As part of our Accelerate 25 program, the display of the Pride star represents a visual expression of our commitment to creating a more diverse and inclusive team," read a statement from the Mercedes team.
"We strongly believe that fostering a culture where our team members can freely express their personalities and identities will result in a stronger, more successful team."
Mercedes head to the Azerbaijan Grand Prix hoping to get back on an upward trajectory, with Monaco having halted the momentum that had been building.
The Silver Arrows were much closer to the lead pace of Red Bull and Ferrari at the Spanish Grand Prix, but Monaco brought the fight back to the front of midfield.
However, Russell hopes that the deficit of six tenths observed in Monaco can be reduced by half during the Grand Prix of Azerbaijan, organized on the circuit of Baku.
"It will certainly be more suitable, but I don't think it will transform our final position," he told Channel 4.
"At the moment, around Monaco we were six tenths behind, and in Baku we will probably be three tenths behind the front runners which we hope, in the best case scenario.
Meanwhile, Hamilton was left "praying" for a much smoother ride in the W13 at Baku compared to what he experienced at the Monaco Grand Prix.
Mercedes boss Toto Wolff has described Monaco as "a valuable learning curve", so ahead of Baku the team worked hard to turn lessons from Spain and Monaco into progress.
"We head to Baku refreshed after a hectic weekend in Monaco full of red flags, delays and changing weather conditions," Wolff said. "We scored some solid points, but more was possible over the weekend, and we need to maximize every opportunity we can to stay in the fight.
"As in Barcelona, ​​Monaco's slow-speed corners presented a tough challenge for the W13, but also provided us with valuable learning. With another street circuit in Baku, the team worked hard to analyze these two races and identify areas where we can innovate to move us forward.
"Baku often produces fun and crazy track action, and the layout generates good racing opportunities. So let's see if he lives up to his reputation this weekend.
Mercedes have enjoyed success in Azerbaijan before, winning the 2019 and 2018 Azerbaijan GPs, while the team also won here in 2016 in what was Formula 1's first visit to the venue, which then hosted the European Grand Prix.
Hamilton had a chance to win the 2021 Azerbaijan GP, ​​but dropped from P2 to last after accidentally selecting the wrong braking mode and going straight through Turn 1, instead of taking the lead from Red Bull . Sergio Perez as he intended to do.