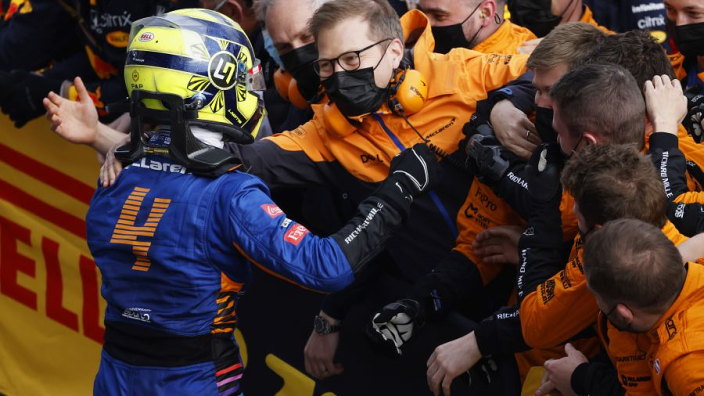 Norris overthrows Alonso, Hamilton, Prost and Senna for new McLaren record
Lewis Hamilton, Mika Hakkinen, Ayrton Senna, Alain Prost and Fernando Alonso were overshadowed by Lando Norris after securing an all-time record for McLaren at the British Grand Prix.
By finishing fourth at Silverstone, Norris extended an incredible streak of points dating back to the Grand Prix of Emilia Romagna last year.
Since failing to score in the Portuguese Grand Prix last season, Norris has completed 15 races in points – a new record for any McLaren driver.
The previous record was held by Alonso, his total corresponding to his race number of 14. This tally was recorded in 2007 from the opening of the season in Australia until the Belgian Grand Prix before a retirement in the next race in Japan does not interrupt its race.
That year, if the points system had been as it is now rather than rewarding just the top eight, Hamilton would have been tied with Norris on 15, but a ninth place finish at the Nürburgring ended his run for new.
Hamilton's best for the team was 10, an accumulated total over two seasons, from the 2010 Japanese Grand Prix to the 2011 Monaco race before retiring to Canada.
Jenson Button also managed to reach double figures on two occasions, between the Hungarian and Australian Grands Prix in 2011 and 2012 and between the Brazilian and the European. [Valencia] races from late 2010 to '11.
In years when only the top six scored points and reliability was far from what it is today, perhaps the most impressive record still belongs to Mika Hakkinen.
In 2000, the Finn scored in 12 consecutive races until his retirement in Japan, and until Alonso registered his 14 in 2007, it was the benchmark for the team.
Sports legends Ayrton Senna and Alain Prost both failed to hit the 10 mark, even in the years of dominance the team enjoyed.
Senna's best would have been 13 had the current point system been in place in 1988, but with just the top six scorers in his day he had to settle for eight.
Prost did a better out of nine and three times, each race being stopped by retirement.