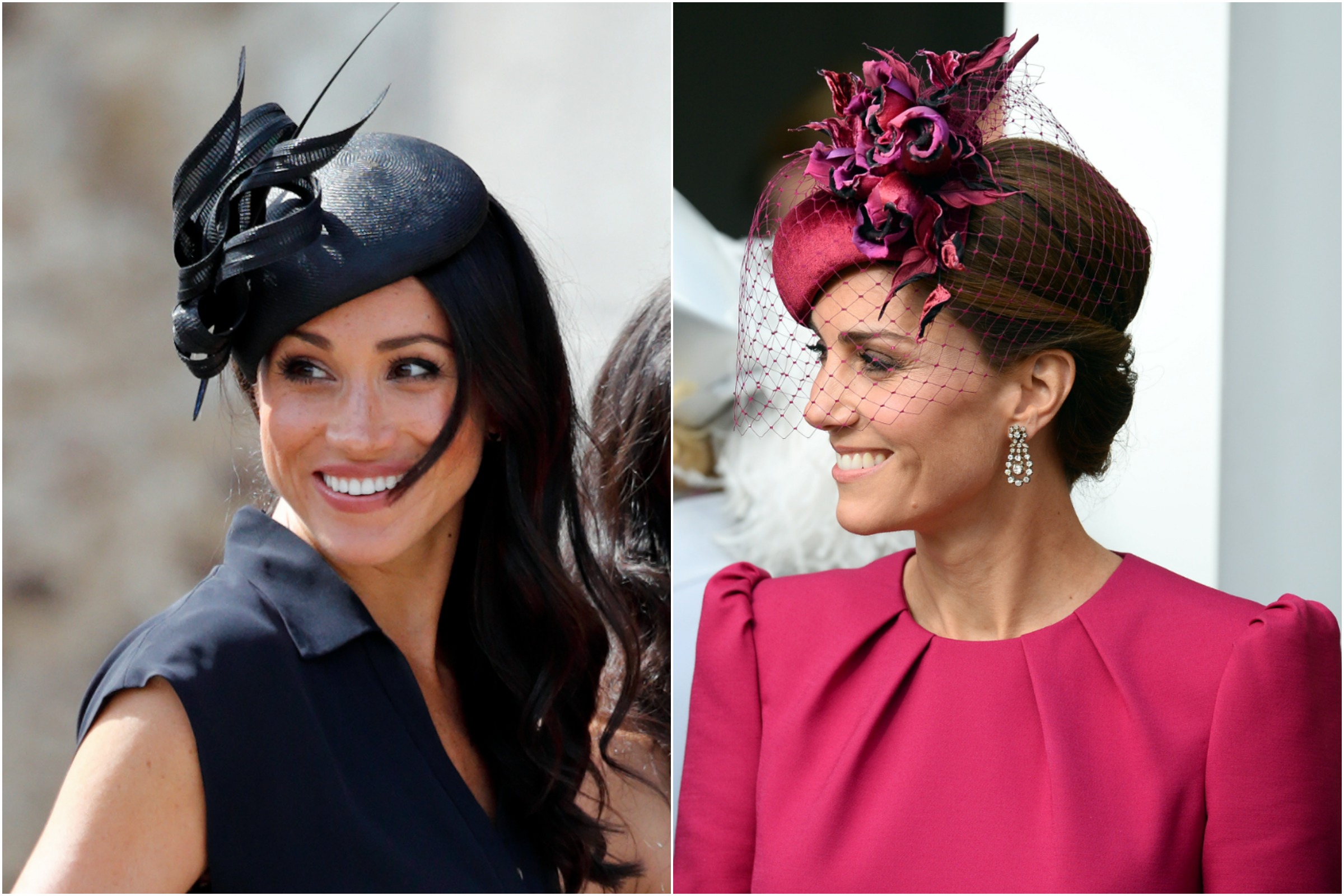 What Meghan Markle and Kate Middleton Wear as the Perfect Wedding Guests
Both Kate Middleton and Meghan Markle have developed strong individual styles that set them apart from other members of the royal family. Since their own wedding days in 2011 and 2018, the two Duchesses have maintained a high standard of dress.
Kate's Alexander McQueen wedding dress was an elegant lace creation with a classic tailored bodice and long delicate sleeves echoing one of the most famous royal wedding dresses of all time, that of Grace Kelly.
Meghan chose the Parisian fashion house Givenchy to make her wedding dress. The dress was starkly simple with half-length sleeves, topped with a veil embroidered with all the flowers of the Commonwealth plus a California poppy.
Both brides won praise from the fashion press as they shone in the center of attention on their big days. But what do these stylish royals wear to a wedding when they don't want all eyes on them?
Newsweek look at what Meghan and Kate are wearing as the perfect royal wedding guests.
Wedding of Zara Phillips and Mike Tindall, July 30, 2011
At the wedding of Prince William's first cousin, Zara Tindall, née Phillips, in Edinburgh – the first major wedding Kate has attended as a member of the royal family – she again wore an old favorite piece she had been in seen for at least two other marriages.
The extreme media scrutiny Kate faced after joining the Royal Family saw most royal events overshadowed by the headlines about her.
The choice to wear an old outfit again had the effect of not encouraging new stories about the Duchess' clothing, leaving the spotlight where it rightfully belonged, with the bride and groom. Kate has worn outfits again on many other important occasions where she is not the intended center of attention.
Kate's gold brocade dress was made by label DAY Birger and Mikkelsen and was paired with a large matching Gina Foster Millinery hat.
Marriage of Pippa Middleton and James Matthews, May 20, 2017
For her only sister's wedding, Kate wore a custom dress by the designer of her own wedding dress, Sarah Burton for Alexander McQueen. The midi dress in a nude pink hue was paired with a Jane Taylor hat and Gianvito Rossi heels.
Kate was pictured rounding up groomsmen and bridesmaids outside the church, which included her own children Prince George and Princess Charlotte, in the quiet Surrey village where the wedding took place place. Pippa's own appearance at William and Kate's wedding in 2011 caused a stir in the media. the soon-to-be Royal Family sister has been accused of distracting the bride in a stunning pillar-cut dress by Alexander McQueen.
Wedding of Prince Harry and Meghan Markle, May 19, 2018
Prince Harry and Meghan Markle's wedding took place less than a month after Kate gave birth to her third child, Prince Louis.
Kate managed to attend the wedding looking stunning in a primrose yellow coat dress by Alexander McQueen and a hat by Philip Treacy.
Because she once again wore an outfit for the occasion instead of debuting a glamorous new one, the headlines the next day were less about what she was wearing and more focused on Harry and Meghan.
Wedding of Charlie Van Straubenzee and Daisy Jenks, August 4, 2018
As a wedding guest, Meghan sticks to her own aesthetic style instead of conforming to what is conventional, at least for a British wedding.
For the glorious summer wedding of her husband's childhood friend Charlie Van Straubenzee, which fell on the same day as his 37th birthday, Meghan wore a dress by Canadian brand Club Monaco.
The dress's neutral color scheme of dark navy, terracotta pink and forest green contrasted with the other guests who wore light summer prints without attracting more attention than she had already been paid. Meghan teamed the dress with a belt from Miu Miu, her Aquazzura bow-tie style high heels and a hat from Philip Treacy.
Wedding of Princess Eugenie and Jack Brooksbank, October 12, 2018
For her first royal wedding as a member of the royal family, Meghan debuted an elegant coat and a bespoke dress by her wedding dress designer, Clare Waight Keller for Givenchy.
The ensemble worn at Princess Eugenie's wedding was again in Meghan's confident muted color scheme and did not immediately catch the eye of wedding guests.
Meghan paired her Givenchy ensemble with a hat by milliner Noel Stewart designed to mimic a feather cockade. Golden reflections to the outfit were added by a series of original jewels with faceted crystals from the Pippa Small brand.
Both Kate and Meghan have found ways to dress to their advantage to celebrate the weddings of their loved ones without drawing attention to the most important bride and groom.
Again wearing pieces that have debuted on other royal occasions, Kate's appearance does not eclipse that of the bride in the eyes of the press, as was demonstrated at Harry and Meghan's wedding in 2016.
Meghan's neutral-toned wedding outfits, while they may be new, also ensure that she doesn't stand out too dramatically against other guests. Together, the couple continue to develop their own styles within the expectations placed on them as senior royals, even after Meghan stepped down along with Harry as a full-time working royal in 2020.